Announcement: Seminar: "Christianity – The First Three Centuries"
A Seminar with Dr. Paul L. Maier Professor of Ancient History And widely read Author
Immanuel Lutheran Church
2145 S. Coronado Dr. Sierra Vista, AZ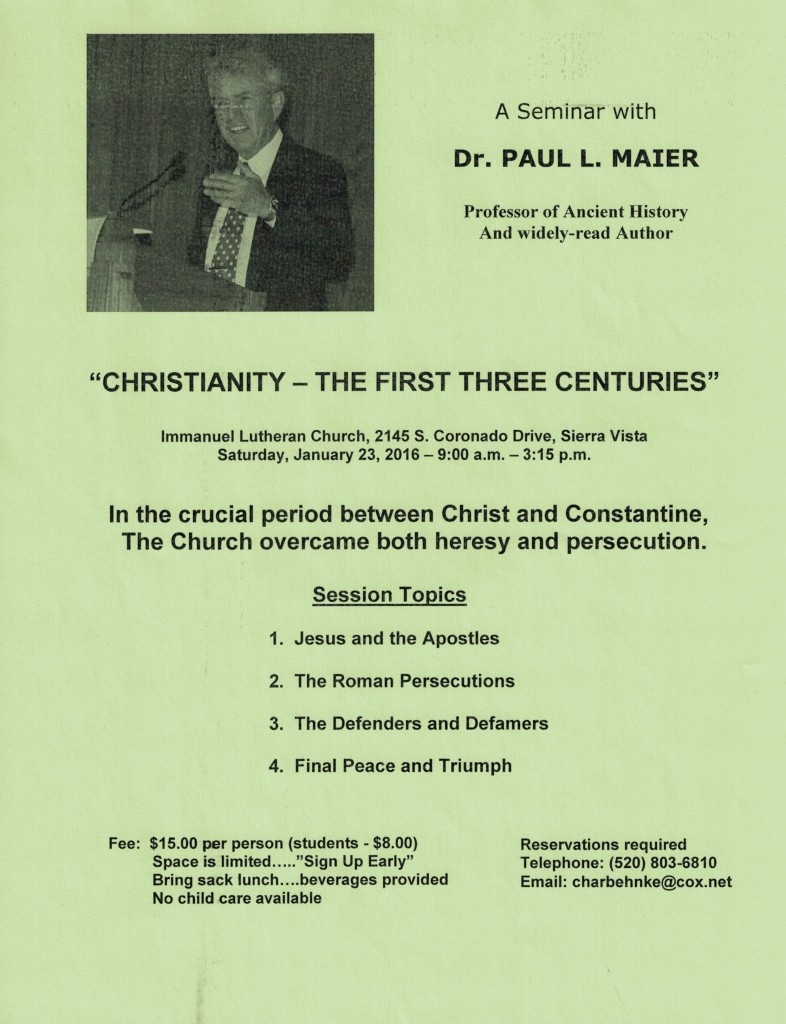 CHRISTIANITY:
THE FIRST THREE CENTURIES
In the crucial period between Christ and Constantine, The Church overcame both heresy and persecution.
1. JESUS AND THE APOSTLES
Josephus and other ancient historians, archaeology, and related disciplines pick up where the New Testament leaves off, adding colorful detail. Eusebius of Caesarea, "the father of church history," tells what happened to Jesus' disciples later in life, how the Gospels and Epistles were written, and why Rome tried to eliminate Christianity.
2. THE ROMAN PERSECUTIONS
The early martyrs — James the Just, Peter, and Paul — were only the first in a long line of heroes Of the faith that included Ignatius of Antioch, Polycarp, Justin, and others. Persecution was an on-again, off-again phenomenon, depending on which emperor was in charge.
3. THE DEFENDERS AND DEFAMERS
Brilliant apologists in the East and West defended the faith against pagan oppressors on the outside as well as heretics within. Such errorists included Simon Magus, the Gnostics, Marcion, and Montanus, as well as others who thrived on controversy.
4. FINAL PEACE AND TRIUMPH
After third-century persecutions that were particularly horrible, the
Roman emperor Constantine the Great astonished the world by converting to Christianity and supporting the church rather than repressing it. Why?